Return to Headlines
Veteran Coach Stepping Down
Washington Township High School Boys Soccer Coach Shane Snyder Resigns After 14 Amazing Seasons
For Immediate Release
November 16, 2023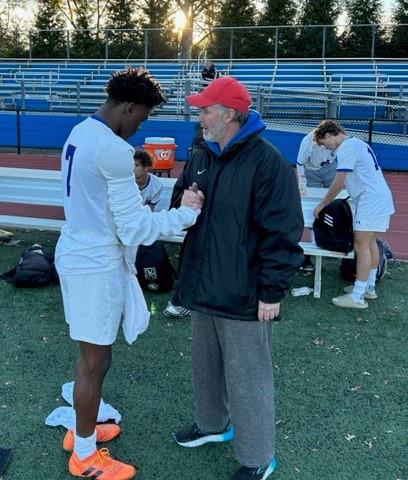 WTHS boys soccer coach Shane Snyder (right) shakes hands with senior Ajani Dwyer following the Minutemen's loss to Princeton in the state Group IV semifinals.
WASHINGTON TOWNSHIP – Shane Snyder said he's not the type of coach to go chasing dreams. Fortunately for him, over the course of a 14-year boys soccer coaching career at Washington Township High School, Snyder's teams have achieved at a level beyond the wildest imagination. But prior to the start of the 2023 fall season, Snyder disclosed to his wife that he planned to make this his last season in charge of the Minutemen. They kept it a secret, which meant bottling up any concerns about how his final chapter would be written.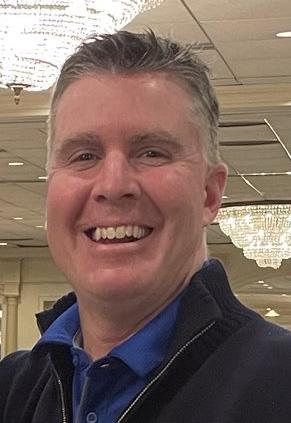 "I'll be honest, it was the most stressful I've ever been," Snyder admitted. "The decision was already made. I was stepping down no matter what. But I really wanted to go out on a good note, and that put a lot of stress on me."
Chasing a final dream season? Maybe not quite, but Snyder and the Minutemen delivered anyway, posting a 18-2-2 record that included the South Jersey Group IV sectional championship, the Tri-County Conference Royal Division title, and a runner-up finish in the South Jersey Coaches Association tournament. It capped a coaching career that included three state titles and seven sectional crowns – neither of which were achieved in program history prior to his tenure – in addition to three Coaches Tournament championships and eight conference crowns.
"It's hard to put into words," Snyder said of his career at the helm of what is now one of South Jersey's premier programs. "We've achieved what we've wanted to, a thousandfold. I will always be grateful for the relationships I've had with the parents, the players, and working with the same athletic director for 14 years. It's been a dream come true."
Snyder will continue his role as a special education teacher at WTHS and will maintain his spot as head boys golf coach this spring. But his fingerprints will forever be over the boys soccer program, where he finished with a career record of 241-52-19. As head coach of the WTHS girls soccer program from 2003-09, Snyder's teams went 91-40-7, giving him 332 wins pitchside.
"Coach Shane Snyder is an amazing educator, leader, and coach," WTHS Director of Athletics Kevin Murphy said. "He distinguished himself as a championship coach on many levels during his two decades of service to the WTHS soccer program. Shane was passionate about the game of soccer, but even more passionate about developing character and helping our student-athletes grow and develop as young adults. Our WTHS community will be forever grateful to the contributions Coach Snyder made to our soccer program."
Coaching has always been in Snyder's blood. His father, Bill, won 11 consecutive Philadelphia Public League championships at Frankford High School. His brother, Billy, coached boys soccer at Pennsauken High School before becoming the school's athletic director. And his other brother, Jason, heads the boys soccer program at Lindenwold High School.
So, it's no surprise that Shane won't be putting his whistle away for good. His son, Keegan, 6, will begin traveling soccer this year, and dad will be on the sideline. Daughter Finley, 4, isn't far behind, either.
"It'll be a different kind of coaching, but I'm really looking forward to it," Snyder said, adding that the hardest part of stepping down was telling his Minutemen players.
"They were confused at first, but my kids had been coming to some of our games, so I think they get it," he added. "It's been an awesome journey, and it's sad that it's over. But I have a lot to look forward to."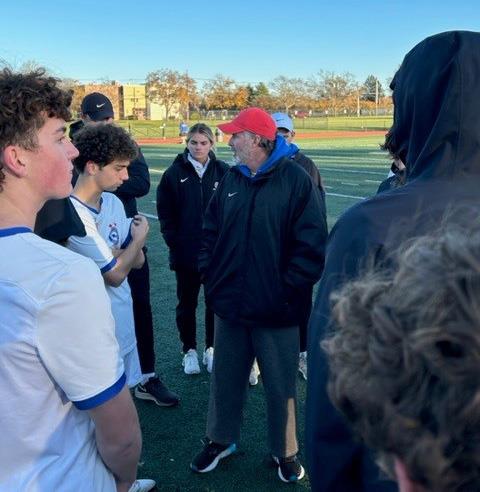 Coach Snyder addresses his team after the state semifinal.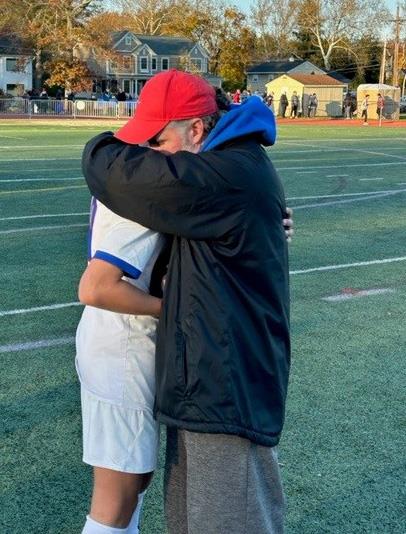 Snyder embraces one of his players.
- WTPS -