Return to Headlines
Chestnut Ridge Middle School Honors Marine Corps Veteran as part of Veterans Day Celebration
For Immediate Release
November 17, 2023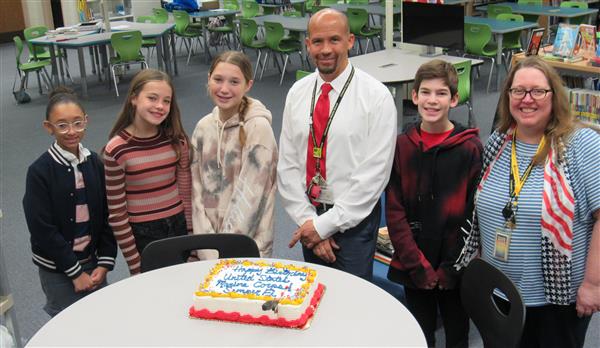 CRMS student council and advisor Mrs. Lori Bathurst pose with Mr. Wilmont Redman. They include (left to right): Khloe Rodriguez, Allie Sims, Lilyanna Jackson, Mr. Redman, Jack Ehrenworth, and Mrs. Bathurst.
WASHINGTON TOWNSHIP – Chestnut Ridge Middle School welcomed special guest Mr. Wilmont (Rodney) Redman as part of the school's Veterans Day program on Wednesday, November 8, 2023. The CRMS Student Council honored Mr. Redman for his service with the United States Marine Corps.
CRMS eighth-grader Jack Ehrenworth had the opportunity to interview Mr. Redman on the school's morning announcements, during which the entire school was able to learn about Mr. Redman's service to our country.
To add to the celebration – both for Veterans Day and for the Marine Corps' November 10th birthday – Mr. Redman was presented with a cake for the occasion, a tradition honored annually by the Corps.
Capping things off, the CRMS staff and students unveiled a donation of goods from the Veterans Haven South wish list, which will be donated in Mr. Redman's name. That donation was commended by the New Jersey Department of Military and Veterans Affairs in a letter from Brigadier Gen. Patrick Kennedy of the New Jersey National Guard.
"As you know, our facility depends heavily on donations from individuals, Veterans groups, and community organizations," Brig. Gen. Kennedy said. "With your continued support, we are able to further our mission in helping our Veterans reestablish a healthy and productive way of life."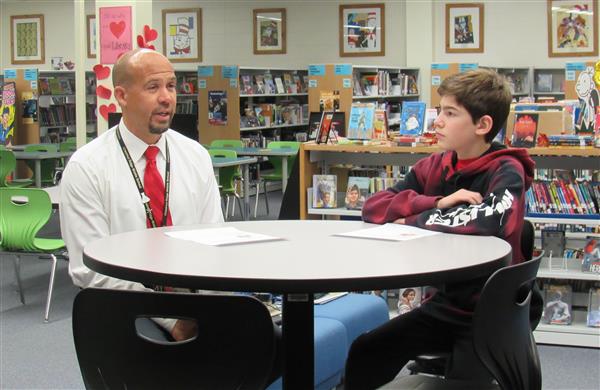 CRMS eighth-grader Jack Ehrenworth (right) interviews Mr. Redman on the school's morning announcements.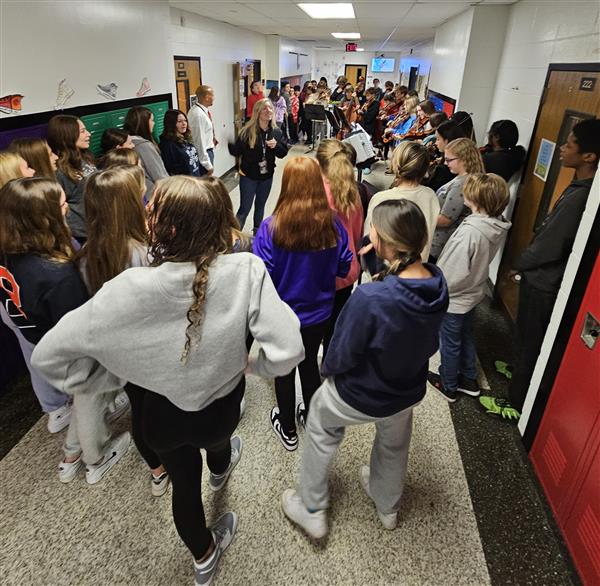 The CRMS eighth-grade chorus and orchestra students serenaded Mr. Redman.
- WTPS -