Return to Headlines
Bells Elementary Hosts Successful Veterans Day Assembly
For Immediate Release
November 20, 2023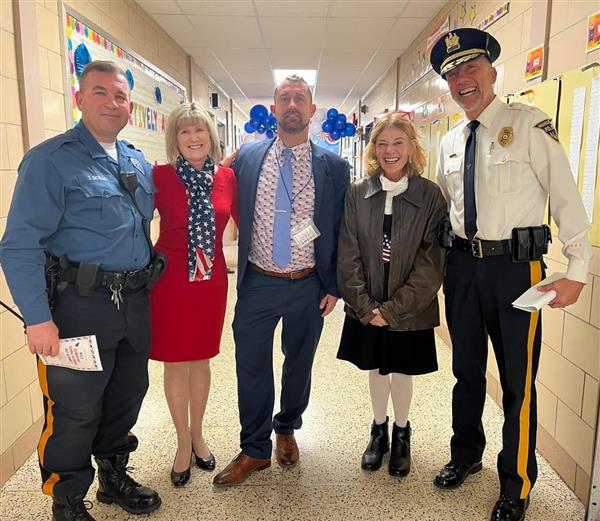 Bells Elementary staff join Washington Township Police for a photo prior to the school's Veterans Day assembly. Pictured include (left to right): Ofc. Tom DiTullio, Bells teacher Laura Ragone, acting principal Shaun Giberson, teacher Joy Piddington, and Chief Pat Gurcsik.
WASHINGTON TOWNSHIP – Under the dedicated and inspiring direction of Ms. Sarah Sacco, Ms. Kelly DeLizza, and Ms. Julie Tacconelli, the Bells Elementary School community came together to create a memorable and meaningful Veterans Day program on Monday, November 13th.
"These educators worked tirelessly to organize an assembly that not only paid tribute to our veterans, but also educated our students about the sacrifices made by those who have served in the armed forces," Bells acting principal Shaun Giberson said.
One of the highlights of the assembly was the presence and participation of Dr. Mary Bushong, whose commitment to historical accuracy and reverence for our country's military history added a special touch to the event. Dr. Bushong, dressed in Civil War attire, played a poignant rendition of "Taps," evoking a deep sense of solemnity and reflection among the audience. Her contribution added a unique and powerful element to the assembly, connecting the past and present in a way that left a lasting impact on everyone in attendance.
"The entire school community was privileged to witness this heartfelt tribute to our veterans, and the educational value of the assembly was immeasurable," Giberson said. "The commitment of our staff, the engagement of our students, and the support of our parents all played pivotal roles in making this Veterans Day assembly a resounding success."
Board of Education members David Tomczak, Elayne Clancy, and Scott Laliberte, Superintendent of Schools Dr. Eric Hibbs, School Business Administrator Janine Wechter, Washington Township Mayor Joann Gattinelli, and WT Police Chief Pat Gurcsik all were in attendance, adding to the spirit of the day's events.
"As we reflect on the sacrifices made by our veterans, let us also express our sincere gratitude to everyone involved in organizing and participating in this event," Giberson said. "Together, we have created a meaningful and respectful tribute to those who have served our country with courage and honor. On behalf of Bells Elementary School, I am delighted to share the remarkable success of our Veterans Day assembly, a heartfelt tribute to the brave men and women who have served our country."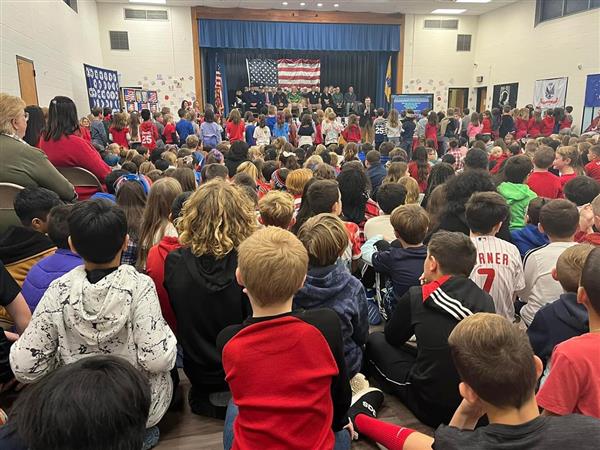 Bells staff and students were excited to welcome veterans to the assembly.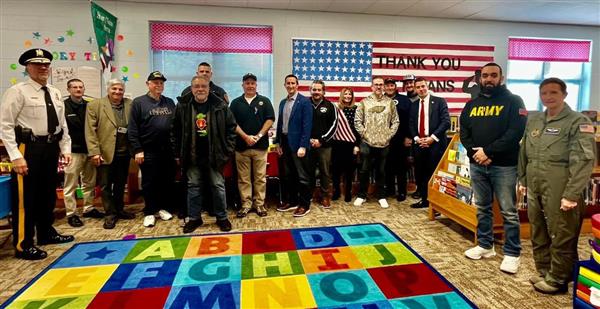 Veterans and dignitaries gather for a group photo prior to the assembly.

- WTPS -