Return to Headlines
Whitman Elementary School Health/Physical Education Teacher Adam Clark Keeps Kids Active Through Digital Gymnasium   
Kids enthusiastically and routinely flock to Whitman Elementary School health and physical education teacher Adam Clark and his class. His is a high-energy, high-expectation, high-reward type of learning. So, when the coronavirus sidelined his students and forced them out of his gymnasium, Clark, like all the District's innovative health and physical education teachers, got creative and interactive by instituting a virtual fitness platform that allows him to connect with his students and their families digitally.
Clark created a comprehensive list of videos and shared them out on his teacher page for parents and students to access. The videos address everything from mindfulness and emotion, to critical thinking, to brain breaks, and, of course, moving and engaging in physical activity. He even shared out an article on how to talk to kids about COVID-19 and a video for kids that shows the importance of proper handwashing.
Clark's page includes detailed instructions for games that will physically engage kids in fun ways using dice, Uno cards, and playing cards, performing jumping jacks, burpees, star jumps and squats and having kids (and parents) walking, skipping, jumping, hopping, running, jogging, galloping and moving!
Clark added another page of videos he created use Flipgrid technology that he shares out with families on the Whitman PE Channel. And he is inviting his students to send him pictures of their bike riding, basketball, skateboarding, dancing, gymnastics, etc., from their backyards and neighborhoods.
"First, I took a lot of deep breaths," Clark said about preparing his teacher page. "Then, I organized my thoughts and played around with the layout and design of the teacher webpage to see how I wanted to plug in valuable information, activities, and health/physical education resources. My main goal was to offer a lot of meaningful and engaging activities for all my students to choose from while also giving them freedom to explore what worked best for their family. I also really wanted to show how valuable health and PE is for everyone, and that it is more than just gym class.
"Teaching physical education remotely is obviously a vast challenge," he continued. "However, there are so many top-quality ideas, resources and technologies available that it really became about communicating expectations, guidance, and providing support. The main challenge is creating a digital gymnasium and not having the typical face-to-face interaction. One of my strengths as an educator is observing students and helping guide them during lessons. This is now a challenge because my observation and instructional strategies have changed."
Clark may be challenged, but in his signature style, he still is successfully infusing fun into his students' experience, and into his own.
"It has been fun learning new stuff to implement, and it has forced me to play the role of a student," he said. "I created some cool ways to connect with students during this time by using FlipGrid and by posting pictures that parents send me of their child staying active. I post them to my page under a section I labeled "Whitman PE Wall of Fame." The goal with this idea is to have parents and students have fun together, while adding in a communication component. Overall, we are all doing our best with what we have, and I am proud of how our Whitman families and students have stepped up to this challenge."
"Mr. Clark is a true asset to Whitman School and to our District," Whitman Elementary School principal Ray Anderson said. "He consistently goes the extra mile, pun intended, to bring unique experiences to our students each and every day. He's a leader in every sense of the word, and his efforts with remote learning are nothing short of innovating. I'm also very thankful to the families for their hard work online as we work together to provide a different learning environment to our students."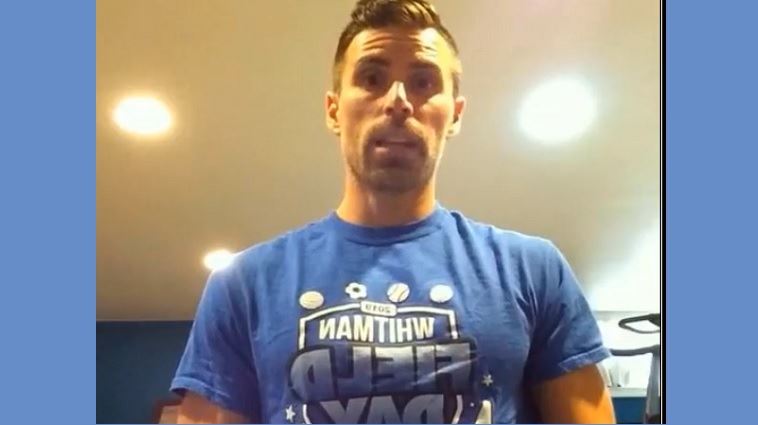 Whitman Elementary school health and physical education teacher Adam Clark is connecting remotely with students and encouraging their fitness and wellness through his digital gymnasium.